ORATEX® UL 600 & 6000 — THE COVERING OF THE FUTURE
13.10.2017
SUPER CUB
Larry Vetterman is also more than enthusiastic about his ORATEX®-covered aircraft. He flew hands off and about all the weight saving is a very important point for its part.
13.10.2017
BEARHAWK FOUR PLACE
Steve Harris also used the ORATEX® fabric for the covering of his Bearhawk Four Place. After some initial difficulties, he was finally convinced of the process and the results. Moreover, he would consider it as the coving material again and again.
13.10.2017
HIGHLANDER
After being dissatisfied with the Ceconite fabric and its harmful side effects, Pierre Yves Girouard decided to choose the more environmentally beneficial ORATEX® fabric to cover his Highlander. He was enthusiastic about the uncomplicated but demanding process and above all about the result!
13.10.2017
LIL CUB
Frank Knapp built the ultimate STOL aircraft and won the Valdez STOL Competition in 2013. He is convinced that the ORATEX® fabric plays a major role in this. According to Frank, it's the best way of saving weight.
13.10.2017
CLASSIC PA-11
Roger Peterson covered his PA-11 with the ORATEX® fabric. He was very enthusiastic about the fabric and the colours. According to Roger it was "the best colour, he has ever used". Great work!
13.10.2017
DOUBLE ENDER
Alec Wild has set himself the goal of reinventing the modern bush plane. He relied on the ORATEX® fabric and was not disappointed. Great work!
13.10.2017
BODACIOUS
The retired John Steere built a completely new aircraft called "Bodacious". He discovered the ORATEX® fabric, had a few samples sent to him and was immediately impressed. "The results were excellent!"
13.10.2017
BEARHAWK LSA
Mark Goldberg of Avipro Aircraft, the company which produces the Bearhawk kits: "I thought the ORATEX® went on well even though it was very different from past PolyFiber covering on my other planes."
13.10.2017
RANS S7S
Hal Stockman is delighted with his ORATEX®-covered aircraft. He was particularly enthusiastic about the weight savings, which enabled him to install a larger fuel tank.
13.10.2017
CHALLENGER
My plane is fully covered and is flying great! We are very pleased with the fabric and its appearance! Update: After 2 years and 205 flight hours, Tony reports that he is as happy as can be with his ORATEX® covered airplane!
13.10.2017
GLACIER CUB 324
"A few weeks ago, we finished the 324GC and wanted to let you know how much we liked the ORATEX® product. I have been covering planes for thirty years with Ceconite and Stits processes. The ORATEX® process is radically different. No applying chemical coats and no toxic fumes. It took time for me to get used to applying the surface tapes with heat and pressure from what I had been used to, but overall the process was clean and relatively simple. Painting the ORATEX® fabric with ORACOLOR® worked also well. The black paint we used covers in just two coats!", means Dan Dufault. "As a pilot I am always looking for the lightest and best option for performance and durability. That is why I chose the ORATEX® fabric for my experimental Super Cub. It is the best product I have found that withstands the rocks, mud and elements out in the Alaskan bush.", says Bobby.
13.10.2017
SUPERSTOL
Ed Tooey is the first one who used ORATEX® to cover the Just Aircraft SuperSTOL. Despite of installing a lot of new avionics, he saved a lot of weight and came out real good on the total weight. That is what he told us: I fly with it for 24 hours now. It's a light weight aircraft and a SuperSTOL. She weighs 779 pounds with a lot of avionics. It is at least 25 pounds lighter than a painted SuperSTOL with the same Rotax engine."
13.10.2017
eGULL
I have been flying my eGull "the Quark" since early September. It flies well, but I need to practice landings. I can do 3 or 4 landings before I need to recharge the batteries. I have received a lot of comments on the appearance and lots of inquiries about the covering system. Furthermore, I received a lot of questions and comments which I discussed with my colleague who just finished his 4-place Bearhawk, says Martin Koxxy.
13.10.2017
Volmer VJ-22
Bill Tabberts chose ORATEX® for his Volmer VJ-22 amphibious aircraft. After 53 hours and 125 water landings he reports no problems at all!
13.10.2017
RANS S7
Our American customer Mike Mooney impresses with his newly covered Rans S7. Especially the appearance is amazing: he used aluminium strips based on the suggestion of our American distributor!
10.10.2017
NIEUPORT 17 REPLICA
One of our Canadian customers just sent us photos of his Nieuport 17 replica. In a typical design it is based on it's home airfield next to two further ORATEX® covered aircraft (see further references).
10.10.2017
KITFOX
In red and white this ORATEX®-covered Kitfox represents the canadian national colours. Very nice!
10.10.2017
RENEGADE SPIRIT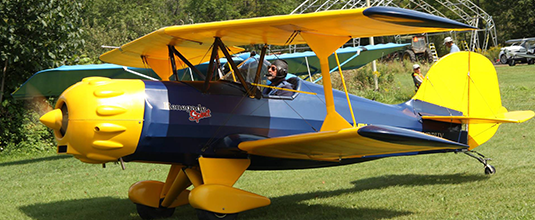 The next Canadian highlight is this ORATEX®-covered Renegade Spirit, which is based on the same airfield like the Nieuport 17 replica and the red-white coloured Kitfox. Successfully worked out!
22.08.2017
BOREY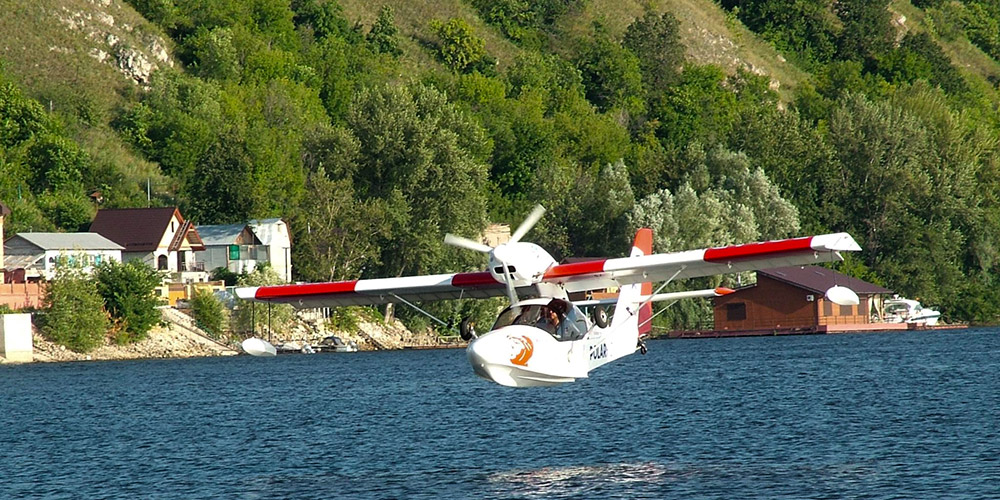 Our Russian customer, the company "NPO AeroVolga ", has selected a new microlight seaplane with the name "Borey". Moreover they have chosen ORATEX UL 600 as the covering fabric. The first flight with the "Borey" showed a good flight performance, of which the ORATEX fabric has a huge part. As the picture, which was sent to us, impressively show. Thank you, for the great reference! We wish you "always blue skies!"
09.08.2017
MUDRY CAP 10 B
Our covering partner Wilhelm Tank just sent us a nice Mudry Cap with a new covered ORATEX-fuselage. Good job, the result is impressive.
20.07.2017
CHRISTEN EAGLE
Europe's first Christen Eagle with ORATEX 6000 covering and ORACOLOR complete paint finish had its first maiden flight on 15 July 2017.
The performance was impressive:
The ascent rate was at Vy 94 mph 2120 ft / min
Vertical penetration from horizontal 180 mph at 1500 ft
Take-off distance was 50 ft. Obstacle: 275m
Landing run was 50 ft. Obstacle: 419 m
We congratulate the owner Mr. Thomas Lohrer on his great success. His Christen Eagle is simply a feast for the eyes and we always wish him blue skies. More information:
https://www.lanitz-aviation.com/blog/view/15#more
24.05.2017
ROBIN
Our customer Jarek Lewinski sent us the following images of his ORATEX® covered Robin recently und is very satisfied: "The Robin flies wonderful! The covering fits perfect and the pinked edge tapes last."
Thanks for your nice reference, Jarek. We wish always blue skies!
22.05.2017
SCHLEICHER KA3
ORATEX®-renewed Ka3 flies again after more than 40 years!
Our customer Wolfgang Schäffler did it: "Just a few people believed in this old aircraft parts. Since yesterday it is checked and got the certificate of airworthiness. Welcome back in the sky, little Mickey Mouse!" - Wolfgang Schäffler about his Ka3, which he made ready in the last 2 years, covered it with ORATEX® und which will finally fly again now!
We share the pleasure of Wolfgang and his 'Ka3-Team' and hope you enjoy the first hours in the air with it!
02.04.2017
SCHLEICHER K8
WORLDWIDE FIRST K8 COVERED WITH ORATEX UL 600 - UNLACED! From now on every Schleicher glider which is listed on the new STC is allowed to get covered with ORATEX UL 600 and ORATEX 6000! Caused by the great characteristics of our ORATEX-covering system there is on the types listed in the STC no more lacing on the wings needed! So the covering of Schleicher gliders gets even more faster and more elegant.
20.01.2017
CASSUTT SPECIAL
We present you a very special colored aircraft: this ORATEX covered Cassutt Special is a raceplane which joined the Reno Airrace Championship.
It's owner Swaid Rahn reported after the race in 2016: "We had a great first year, we placed 5th in the Bronze. My plane flew well and did not have any problems. Everyone who saw the ORATEX loved it! Several people said they were going to the website and research the process. I have enjoyed working with the fabric and would use it again." 5th place for a first year in THAT class is friggin spectacular! The class he is in has the biggest number of participants.
Congratulations, Mr. Rahn!
03.01.2017
ZIVKO EDGE 540
The Zivko Edge 540 is one of the most famous aircraft, which are flown annually at the Red Bull Air Race World Championship. They're constructed as light as possible to ensure maximum speed. To get higher speed by saving more weight, this model is covered with ORATEX.
These propeller-driven machines are highly manoeuvrable, pulling up into a vertical orientation at high speed with very little effort – something that even modern fighter jets can't match.
18.12.2016
RANS S7S
Jim Pohoski covered his Rans S7S with ORATEX 6000 in an expressive colour combination of red and white.
The Rans S7 Courier is an American single-engined, two-seats in tandem, high-wing monoplane designed by Randy Schlitter and manufactured by Rans Inc.
Nice result, Mr. Pohoski! We wish always "blue skies"!
16.12.2016
WITTMAN BUTTERCUP
Our customer Jim Wright has sent us a nice picture of his Wittman Buttercup after covering with ORATEX. Steve Wittman designed and built the Buttercup in 1938, nevertheless to demonstrate how much performance he could get from a small-sized engine.
Thanks for your reference, Mr. Wright! Have fun with your "renewed" machine!
04.12.2016
ROTAX-MOTORGLIDER SF25

The Deutsche Alpensegelflugschule Unterwössen (DASSU) e. V. ordered a completely new SF 25 Rotax-Falke from Scheibe Aircraft. Due to the good experience gained by the DASSU with their training ASK-13's covered with ORATEX, the DASSU insisted on getting the SF 25 in the ORATEX version. Within a workshop, Scheibe Aircraft was trained into the covering process for ORATEX by Lanitz-Aviation and is now able to cover their aircraft with ORATEX as standard. It is modern equipped: complete equipment PPL-A on TMG: with towing mechanism, radio, transponder, com., nav., Aspen Avionics Primary Flight Display,...and in addition, it has 25 kg (55 lbs.) more payload than DASSU's old SF 25 Motorfalke with the old standard fabric covering. Meanwhile the DASSU is waiting for the final airworthyness certificate by the LBA.
09.11.2016
C22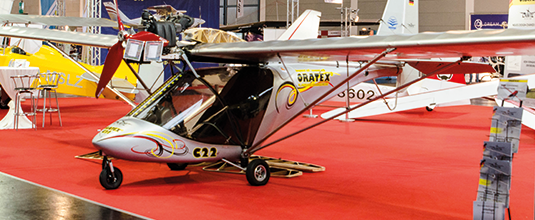 NEW! Conversion kits for C22'sAn ORATEX conversion has already been made on this prototype. The wings, the ailerons, the vertical stabilizer and the horizontal stabilizer were covered with ORATEX.From now on, anyone who needs to recover his C22 can also use our ORATEX fabric and choose from 6 options for conversion.
---->
to the possibilities