ABOUT US
Company Story
1975
1975 - Company was founded

The predecessor of LANITZ-PRENA FOLIEN FACTORY GmbH, LANITZ-MODELLBAU in Berlin, was founded in 1975. Initially LANITZ-MODELLBAU produced and marketed model aircraft kits and accessories.

Already in the late 1970s we distributed the first mass-produced ready-to-cover model airplanes, to be followed by the first ARFs. With the mass production of these ARF ranges the weak points of conventional covering films became obvious.
1985
1985 - Production launched under the name of ORACOVER®

In 1985 the production of these covering films was launched under the name of ORACOVER®. Due to the world-wide growing demand for this product we decided to stop the production and distribution of model airplanes and accessories altogether and to concentrate on the production of ORACOVER®.
1992
1992 - Enlarge our product range

In 1992 the decision was made to considerably enlarge our product range, and Leipzig in East Germany was chosen as new location for the production. For this purpose LANITZ-MODELLBAU bought and privatized PRENA-Werk Leipzig GmbH, the former state-owned VEB ISOFOL factory and converted it into the new production centre.
1993
1993 - three shifts daily

Since 1993 our products have been manufactured in three shifts daily. At the same time the production of ORACOVER® films has been completely reworked and brought up to the latest state of the art. The production technology newly developed in Leipzig by Mr. Lanitz has been patented world-wide.
1995
1995 - Fusion of the sites Berlin and Leipzig

1995 the decision was made in favour of a merger between LANITZ-MODELLBAU BERLIN and PRENA-WERK LEIPZIG GmbH, with the new company name LANITZ-PRENA FOLIEN FACTORY GmbH reflecting the new facts.
1998
1998 - Aviation authorization issued


In 1998 our EASYPLOT polyester films were tested and approved for the use in military aviation by the AIR ACADAMY ZHUKHOVSKY. In the same year we got the permission for the use in civil aviation by the FEDERAL AVIATION SERVICE OF RUSSIA. This was a first step towards the use of our products in general aviation.
2001
2001 - First use of ORATEX® fabric covering


The second step followed in 2001: Our ORATEX® fabric covering was successfully used by the Zurich University in Switzerland on a full-sized light aircraft. We took up this project and developed ORATEX® UL 600 and ORATEX® 6000 for general aviation. With this we stroke an absolutely innovative path.
2006
2006 - Specialized partner of Solar Impulse

Solar Impulse chose us as a specialized partner for the covering of the Si1 and Si2, as only our company was able to achieve a
safe covering for these aircraft according to the given weight and performance parameters. Our quality products ORATEX® and ORALIGHT® are used.

With our technical know-how and innovative ideas, we have supported this future-oriented project since 2006. The aim of the project was to develop an aircraft that can fly by day and by night without fuel and the associated pollutants around the immense Potential of renewable energies.

From March 2015 to July 2016, Solar Impulse successfully completed the flight around the tour.
2007
2007 - Covering the first Motor aircraft


In 2007 we've covered an motor aicraft for the first time with ORATEX® UL600. It was a Mistral.
2008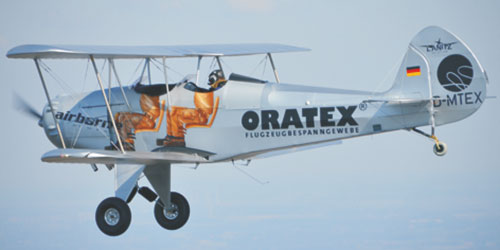 2008 - first Airborne One Kiebitz covered

This year we could celebrate the first covering of an Airborne One Kiebitz.
2012
2012 - first ever approval on an Antonow AN2

The ORATEX® 6000 fabric received the world's first approval for an Antonow AN2
2013
2013 - First certification by EASA/LBA


In 2013 the first EASA/LBA certification were issued. Since then we have received further certifications.
2017
2017 - Non-shrinking 2-component PU-based spatula

In 2017, we developed a non-shrinking, two-component PU-based spatula.
2017 - Website-Relaunch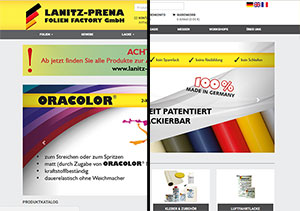 The new Lanitz-Website comes with many new technical features and a modern Design. For you we made our Onlineshop faster, clearer, more comfortable and more informative. Most important feature: You can filter by item characteristics and find exactly the product what you're searching for.

In addition to that we made two Websites out of one: on www.oracover.de you still find everything which relates to model making, handicraft work and creative need and on www.lanitz-aviation.com you find from now on all our products and information which relate to General Aviation.
Air sport has a tradition in our company
Siegfried Lanitz is the sole proprietor, managing director and patent-holder of ORACOVER. He discovered his love of the modelling hobby at the age of fourteen. Today he still looks at the development of a new product with a modeller's eyes; and only if a new development fully convinces him as a private modeller, it will reach the stage of regular production. His philosophy: Only the very best is good enough for my customers' model aircraft. He also tests our products in the range of general aviation regarding their suitability in daily use.

By the way, in case you have any questions concerning the covering of aircraft: We are always at your service! Do not hesitate to contact us by e-mail or fax or simply call us.

LANITZ-PRENA FOLIEN FACTORY GmbH